Glasgow Children's Facilities
Glasgow Children's Facilities has lots of changing and entertainment facilities for travelling families.
Baby-Changing at Glasgow Airport
Babycare facilities are available in the following areas:
Before security in the main check-in hall
On the first floor (towards the rear of the food court)
After security on the first floor, next to Starbucks
There are more on the first floor, neighbouring the Beardmore Bar and Tennents Bar
Post security, next to the British Airways lounge
At gates 1-3 and 10-11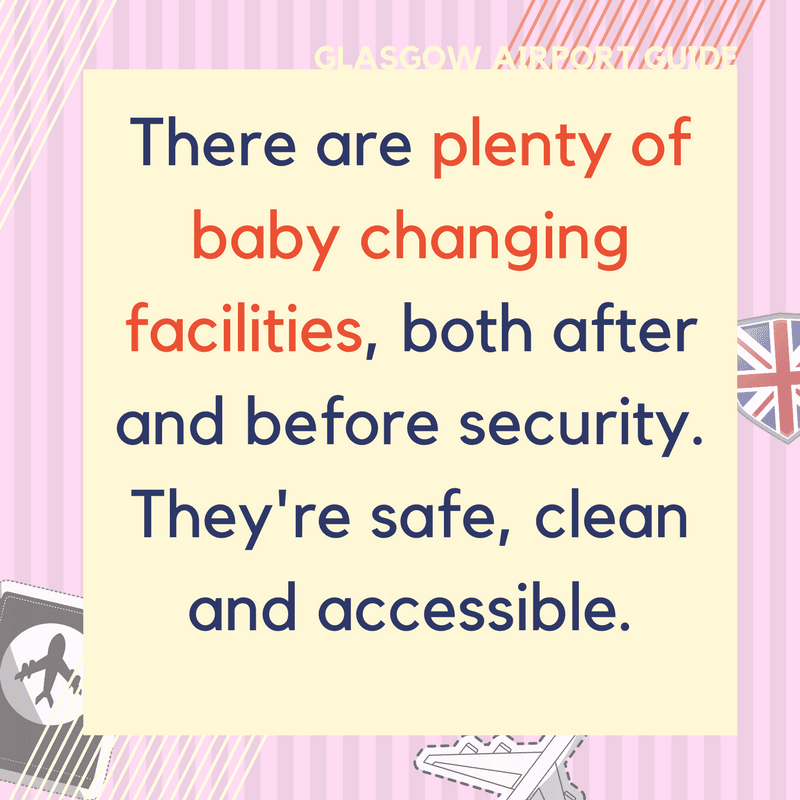 Soft Play Area at Glasgow Airport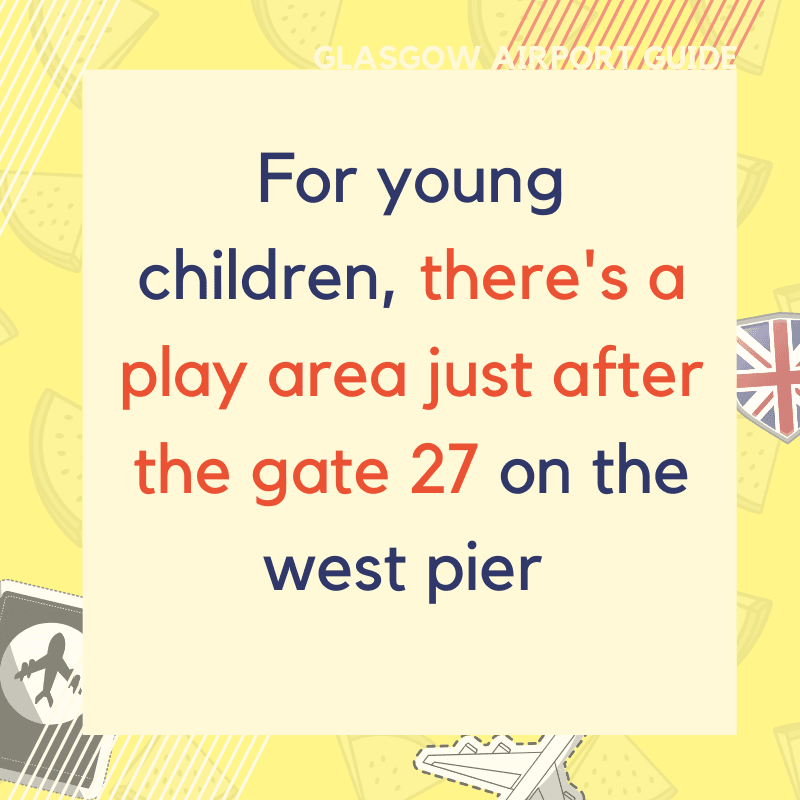 Located just after gate 27 on our west pier, the Kids Zone is a free soft play area for children.
Children's soft play area is located after gate 27 on the west pier.
Alternatively, you can buy tickets to visit Upper Deck on the top floor. It comes with the best panoramic views of the airport for any avid little plane-watchers (or grown-ups) as well as a kids zone and games centre.
Prices:
Adults (14 years+): £25.00
Children (two - 13 years): £19
Shopping and Eating
Most of the restaurants and bars located at Glasgow Airport offer high chairs and children's menus on request. Any of the catering outlets will be pleased to provide hot water on request for the heating of baby food/milk.
Many of those restaurants can accept special requests to feed fussy eaters and provide a word-search/ colouring game while you're eating or reading the menu.
Essentials such as nappies, formula milk and wipes can be purchased from Boots and if you forgot to bring colouring or activity books, you can purchase them from WHSmith.
See a full list of Glasgow Airport Restaurants and Foodie places to feed those hungry tummies.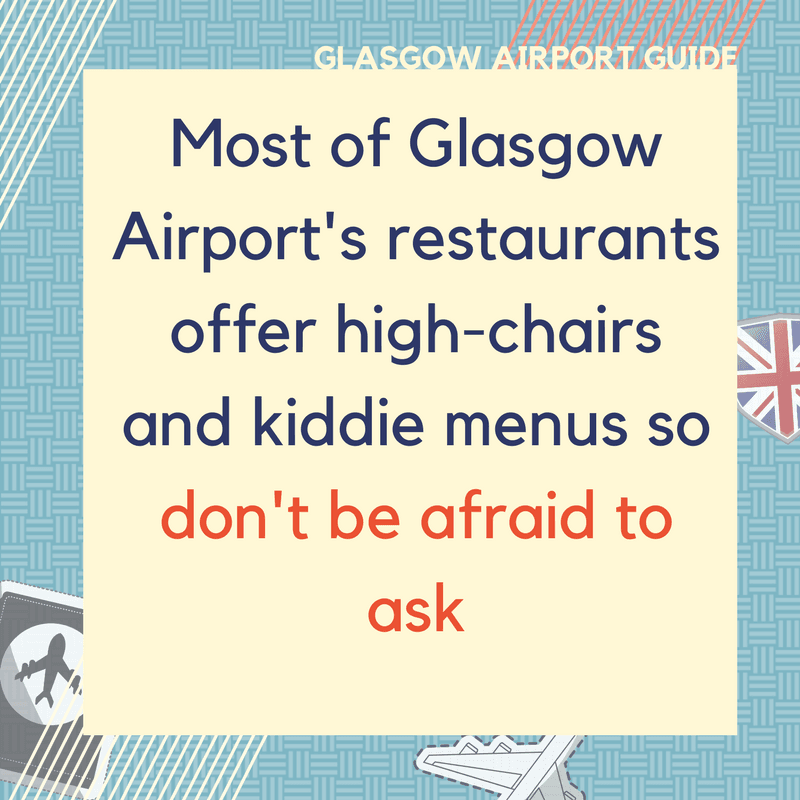 Child car seat Hire at Glasgow Airport
If you hire a car from Glasgow Airport, then you may also need to hire a child seat, depending on your child's age and height. Visit the Gov.uk website to find more details on child seat laws in the UK.
Using child car seats on a plane
Although it's not required, the Federal Aviation Administration (FAA) and the American Academy of Pediatrics recommend that an FAA-approved child restraint device is used.
Most flights leaving the UK allow the adult person to hold a child of up to 2 years of age on their lap, normally free of charge.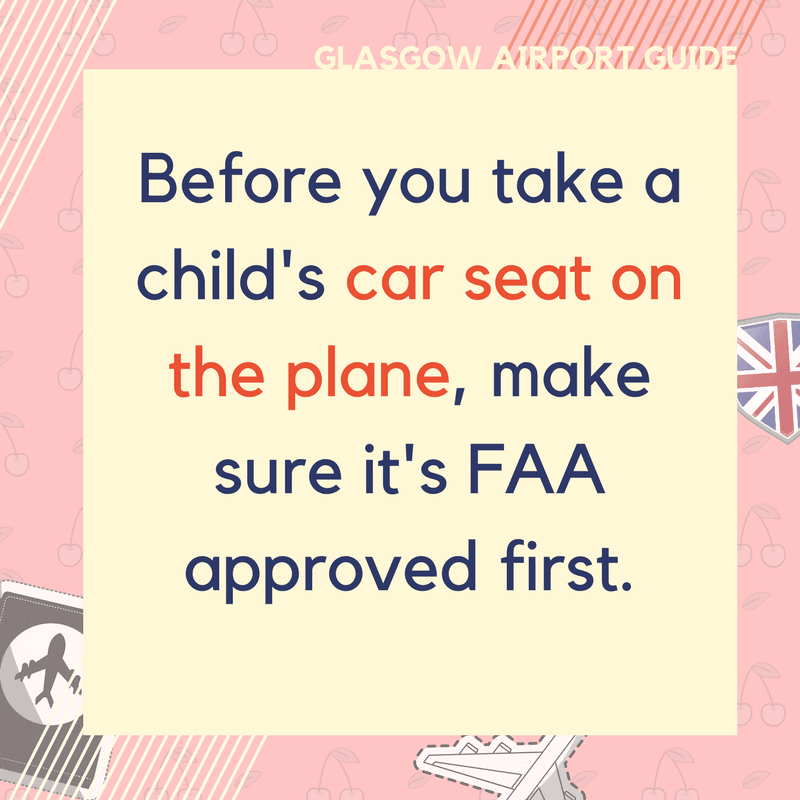 However, the unexpected turbulence can sometimes mean the child is not as safe as he/she would be if he/she was securely strapped in. It might be a good idea to ask the airline of your choice before proceeding with the booking.
For example, British Airways offer passengers with small children an option to reserve a seat with a carrycot position. The airline also supplies a child seat that attaches to the carrycot position. Furthermore, if parents decide to book an individual seat for their child, the airline allows you to use your own car seat, as long as it fits the required size and specification. To find out more please consult the airline directly.